PHRAZIS
7 Healthy benefits of eating boiled eggs daily
If you are wondering whether dropping the idea of consuming egg from your daily diet routine will have insignificant result on your body then this article serves answer to your query.
From shedding light on the significance of eating eggs to understanding the nutritious composition of the same, this content apparently gives you a heads-up to never stop in-taking eggs if you want to remain eternally fit.
Did You Know?
To everyone's surprise, a study published in Paediatrics magazine has recommended that giving young children just one egg a day for six months, alongside a diet with reduced sugar-sweetened foods, can help them achieve a healthy height and prevent stunting.
A simple boiled or scrambled egg can be made companion with a variety of vegetables and other foods before you gobble down your stomach. Eggs are easy to cook and store and are compact sources of nutrition which is absolutely a sheer delight to your healthy body.
With due respect already given to eggs, let us try to dig deep to know why a fit body desperately needs eggs as it's life partner. Get Egg-cited!
Nutritious bombs
One egg treasures many nutrients that can turn a single cell into a baby chicken. While egg yolks contain an element called choline which boosts metabolism, it also protects the body from serious diseases caused by its deficiency.
Let us take a sneak peak on the (Recommended Dietary Allowance) of an egg:
Vitamin A: 6%
Folate:5%
Vitamin B5: 7%
Vitamin B12: 9%
Vitamin B2: 15%
Phosphorus: 9%
Selenium: 22%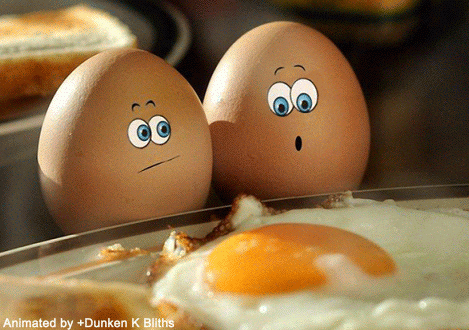 A Quick Note for Women out there!
During pregnancy and breast feeding, an adequate supply of choline is particularly important for the normal development of the child. Eggs are a useful source of vitamin D, which helps women to protect their bones and thwarts osteoporosis and rickets. Hence, it is important to include Eggs as part of a varied and balanced diet.
Improve Thyroid function
Regulating our metabolism and body weight, iodine and selenium found in eggs can synthesize the thyroid hormones.
He is whispering You: "PLease do not leave me on the plate everytime!"
Improves mood which further controls weight
It is very realistic that people who feel mentally stressed are bound to gain enormous weight in a span of few weeks. However, research shows that eating eggs can indeed help you lose weight. High protein content makes the egg rate high on the satiety index which feeds up your body when you consume an egg. Moreover, the choline in the egg can also boost memory, mood, muscle control and other brain functions.
Strengthens Your eyes
Most of the common eye disorders or diseases can be thwarted by eating boiled eggs regularly. The fact that eggs contain two powerful antioxidants- lutein and zeaxanthin which assembles in the retina and counteract the degenerative processes to keep our eyes safe from unwanted diseases.
Moreover, eggs being high in Vitamin A also helps in keeping blindness away.
Lowers down the risk of heart disease
As per common beliefs, eggs do have cholesterol in them.
Consumption of eggs raises the level of large L.D.L in our systems, which reduces the chances of heart diseases.
Hence, it is indispensable to note that having cholesterol in the diet doesn't always increase blood cholesterol levels. However, if you have genetic predisposition of hyper-cholesterol you must control intake of eggs.
Raise the 'GOOD' cholesterol
Eggs propel the heart in the right direction. Keeping strokes and other heart diseases away, eggs help to keep your heart safe from any severe illness.
Lending an argument in favor of consumption of eggs daily, certain studies reveals that eating boiled eggs twice a day for six weeks can increase High- Density- Lipo-protein by 10%and lower the risk of many diseases.